A question has been nagging at me: who is the first un-drafted National Hockey League player in the Hockey Hall of Fame?
Well, the fast answer is the entire 1945 class of inductees.
But let's pretend we want to delve a little deeper and set a few parameters.
In 1963, the The National Hockey League Amateur Draft was the first entry draft to the NHL. Previous to that, players were found and signed by teams on their own. Only North American players were drafted in the original conception of the draft, and even when European players began to defect to North America, they were ineligible for the draft and usually initially played for the team that helped them leave their home countries.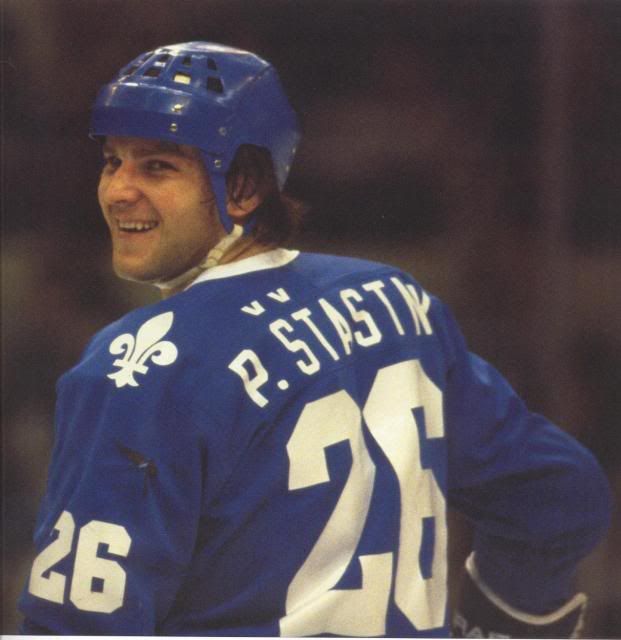 Peter Stastny. Photo Credit here.
The draft continued in the original fashion until 1979, when the NHL absorbed the World Hockey Association, and the rules changed so that any North American player from 18-20 years old and any European player of any age can be drafted in the newly termed NHL Entry Draft.
With players of all nationalities eligible for the draft, Tomas Jonsson (Sweden) became the first drafted European player as the 4th pick in the second round (29th overall).
The following year, Peter Stastny defected from Czechoslovakia with his brother Anton after winning the European Cup in Innsbruck, Austria. Having never been drafted, but played in the NHL with the now (sadly) defunct Quebec Nordiques, the New Jersey Devils, and the St. Louis Blues, he becomes eligible to become the first un-drafted player to be inducted to the HHOF, and indeed, he did so. In 1998, three years after retiring in a Blues kit, Peter the Great was inducted into the HOF with Roy Conacher, Michel Goulet, and Athol Murray becoming the first un-drafted player in the HHOF by this definition.
Some of you might cry foul and say that Björe Salming was the first un-drafted player inducted. But, given that he wasn't eligible to be drafted before his rookie year in the NHL (six years before the draft rules changed), he was disqualified to be the first un-drafted inductee in the context of my question. It's only fair that the first be after everyone is eligible for the draft, and given that European players weren't eligible in 1973 to be drafted, well, you get my point.
Regardless of whom you feel is the rightful first un-drafted NHL Hockey Hall of Famer, there is quite the illustrious list of un-drafted NHL players in the HHOF. Eddie Belfour, Dino Ciccarelli, Joe Mullen, Adam Oates, the list goes on.
Only goes to show you that not being drafted isn't the end of the world.
Sources
here
,
here
, and
here
.